Wheels, Rims and Tires by Brand & Manufacturer
If you go to your local store to find custom wheels and rims, there may or may not be a very large selection. It depends on the store you are going to and how big their warehouses are, in order to determine how many different kind of wheel brands they are going to have onsite. These days, many wheel stores simply will order the wheels in once you order them. The reason for this is because holding many different kinds and types of wheels means you must have a very large location to hold them all! Imagine - there are 16", 17", 20", 22" wheels, and so many more. There are hundreds of different wheel manufacturers. We probably don't even list them all here. We'd like to - so let us know what we're missing!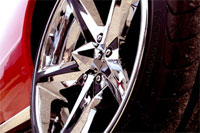 These wheel purchases will carry with them the manufacturer's warranty. If you are having problem with a particular manufacturer, check out the particular page for that brand. On each page we attempt to list the manufacturer's phone number, website and whatever contact information we were able to gather from searching online. If there is a certain manufacturer you are looking for and we do not list them here, please let us know by filling out the contact us page. We will do our best to locate that particular manufacturer for you and get them listed here on our website.
If you would like to get your wheels posted on ChoiceWheels, please use the contact form to let us know. Send us an email and we will follow up with you. If you send us your phone number we will give you a phone call. We are always interested to hear from other businesses, webmasters, wheel manufacturers or other. We will respond in kind upon receiving your message. We also have a contact form on the contact page for getting ahold of us as well.
Wheels and Rims by Brand
Compared to my local stores, this was so easy. Buying Wheels and Rims by brands online is the way to do it. Choice Wheels has been one of the largest wheels brands list and selling online since since wheels were first sold on the internet.
Wheels we sell are with in 30 day money return gaurenteed and carry the manufacturor's warranties agianst defects in workmanship based on the warranty lenght. If you purchase a rim and wheel package from us, we can mount them and balance them with the recommended size for your vehicle and send the set to your door ready to be installed onto your vehicle. All of our wheellines are of the tested for quality and durability or we don't carry them.
One thing that you can be sure of is that you have chosen one of the largest distirbutor of wholesale wheels in the northa america!! Each brand below can go with multiple vehicles and for more information on vehicles please go with the Vehicles list, and from here we have the brand list and you can select the brand you are interested Choice wheels mainly encourages users to write a review on wheel, rim or vehicle they are well known with. This helps us, rest of site visitors about our review. Your review acts as primary resource on choice wheels for the rest of visitors so please write the review if you are well know about that brand or vehicle.